When I was 14 was the first time I traveled to Thailand and I absolutely fell in love. I was lucky enough to return for a second trip when I was 17 and I can't wait for the next. One of the best things about Thailand, or Southeast Asia in general, is the food. I know when you think Asian food most Americans immediately think sweet and sour chicken, tofu, or sushi. Thai food is none of these. I think it is a fabulous combination of all things great about food. You get all the best vegetables, lots of fresh fruit, steamed noodles, and simple chicken and seafood dishes with a twist. I could go on and on about how much I love Thai food but none of that would do any good if you never try it! Thai is quickly becoming more and more popular in the U.S., especially in the Midwest, East coast, and West coast states. If you look on Restaurant.com I am sure you can find one nearby and check it out! Don't be shy to ask questions and I am sure you will not be disappointed.
Now for those of you who already know and love Thai or are feeling a little more adventurous here is an amazing Thai recipe. I am a big fan of coconut and lime and this soup completely embodies that. I get cravings for this at least once a week, and once you try it I am sure you will too! It takes less than a half an hour and can feed up to six, depending on how big your serving sizes are.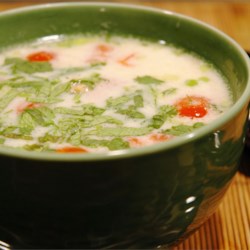 What you will need to make Tom Ka Gai:
1 handful of Thai rice noodles -optional
3/4 lb boneless skinless chicken breast
1/2 lb of tailless/deveined uncooked shrimp - Optional
3 tbsp of vegetable oil (can substitute with evoo)
2 14oz cans of coconut milk
2 cups of water
2 tbsp of minced fresh ginger or 1tbsp of dried ginger
4 tbsp of fish sauce
1/4 cup of lime juice - add more to taste
1 tbsp of red curry paste
handful of shitake mushrooms
6 cherry tomatoes - quartered
2 green onions -sliced
1 tbsp of fresh cilantro - add more to taste
Noodles : To start you want to cook the noodles. Bring a pan of water to a boil and add the rice noodles. Cook for 3-5 minutes or until tender. Do not cook too long or the noodles will become gummy. Drain the water, cover, and set noodles aside.
1. Cut chicken into thin strips and saute in oil with the tomatoes and mushrooms for to 2 to 3 minutes until the chicken turns white.
2. In a pot, bring coconut milk and water to a boil. Reduce heat. Add ginger, fish sauce, lime juice, and red curry paste and stir. Simmer until the chicken is done, 10 to 15 minutes.
If adding shrimp, rinse them first in cold water and then add to the soup in the last 2-3 minutes, just enough time to turn them pink.
3. Add your noodles (if made) to the soup and stir them in.
4. Sprinkle with scallions and fresh cilantro and serve steaming hot.
Extra tips!
For a sweeter more authentic taste, instead of water use chicken broth with a tbsp of sugar. This creates a sweeter taste that I like but it is not necessary. I don't put this in the recipe because it cuts down on cost.
I hope some of you try this and enjoy it as much as I do.
Do any of you love Thai food too? Have any good recipes or Thai experiences? Let me know!